Book Detail: Information Technology in Dairy Industry
Language: English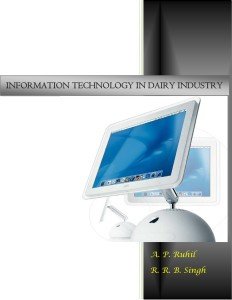 Pages: 195
Author: TNAU
Price: Free
Introduction to Computer Applications PDF Book



Course Outlines of Information Technology in Dairy Industry
Module 1: Overview of IT applications in Dairy Industry
Lesson 1. Information technology: Importance and applications in dairy industry
Module 2: Information Systems
Lesson 2. Data, Information and Knowledge
Lesson 3. Types of information system
Lesson 4. Knowledge management systems
Module 3: Systems Analysis and Design
Lesson 5. Systems development approaches
Lesson 6. Systems analysis and design
Lesson 7. Project management tools
Module 4: Database Systems
Lesson 8. Introduction to databases
Lesson 9. Database structures
Lesson 10. Relational databases
Module 5: Principles of Communication
Lesson 11. Communication principles
Lesson 12. Communication channels
Lesson 13. Communication systems
Module 6: Process Control and Automation
Lesson 14. Process control System
Lesson 15. Plant automation
Lesson 16. Dairy process modeling and simulation
Lesson 17. Special instruments for the dairy industry
Module 7: Role of Computers in Optimization
Lesson 18. Role of computers in optimization
Appendix: Case Studies
A. System analysis for milk procurement and billing system
B. System analysis for inventory control
C. Database design for milk procurement and billing system
D. Database design for milk marketing system
Feedback: After Reading these ICAR eCourse, please give your feedback for improve of the e-Course contents on this website. Click Here
Disclaimer: The information on this website does not warrant or assume any legal liability or responsibility for the accuracy, completeness or usefulness of the courseware contents.
The contents are provided free for noncommercial purpose such as teaching, training, research, extension and self learning.
If you are facing any Problem than fill form Contact Us
If you want share any article related Agriculture with us than send at info@agrimoon.com with your contact detail.