Book Detail: Dairy Plant Management and Pollution Control
Language: English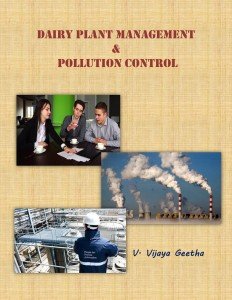 Pages: 90
Author: V. Vijaya Geetha
Price: Free
How to download PDF Book [Full Guide]



Outlines of Dairy Plant Management and Pollution Control
Module 1: Production Management
Production Management, Definition, Function and structure of Production Management
Production planning & Control, Work study and measurement of motion and time study
Module 2: Plant Operations
Efficiency factors, losses, Financial and Managerial efficiency
Industrial Legislation in India, Particularly in dairy industry,
Module 3: Personal Management:
Manpower planning, recruitment, training Transfer, promotions policies
Job specifications, Job evaluation, Job enhancement, Job enrichment, Management by Objectives
Module 4: Working conditions:
Safety hazards, hazards prevention
Security for plant and machinery and the employees
Module 5: Plant Maintenance:
Plant Maintenance: Prevention & Break-down maintenance
Spare parts inventory, tools & Lubricants etc
Module 6: Hygiene
Food hygiene, personnel hygiene, plant hygiene, Water quality
Module 7 Cleaning and Sanitation:
Differentiating Cleaning and Sanitation; Different type of cleaning and sanitizing agents
Module 8: Effluent treatment
Waste management in dairy industry
Solid waste Management
Module 9: Pollutions and control
Pollution: causes, and effects, control measures
Water pollution, causes and effects, control measures
Feedback: After Reading these ICAR eCourse, please give your feedback for improve of the e-Course contents on this website. Click Here
Disclaimer: The information on this website does not warrant or assume any legal liability or responsibility for the accuracy, completeness or usefulness of the courseware contents.
The contents are provided free for noncommercial purpose such as teaching, training, research, extension and self learning.
If you are facing any Problem than fill form Contact Us
If you want share any article related Agriculture with us than send at info@agrimoon.com with your contact detail.