According to India's National Remote Sensing Agency, "Remote Sensing is the technique of acquiring information about objects on the earth's surface without physically coming into contact with them."
The energy comes down to the earth and a part is reflected and detected by a sensor;
The detection is captured as data, which is sent to the receiving station;
Some pre-processing takes place in the receiving station, and then the pre-processed data is handed over to the users;
The users analyze the data for their own application.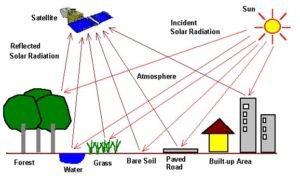 Principle of Remote Sensing
PDF Download: Horti-Business Management
Passive Remote Sensing
Active Remote Sensing
Active remote sensors create their own electromagnetic energy that is transmitted from the sensor towards the terrain interacts with the terrain producing a backscatter of energy and it's recorded by the remote sensor's receiver.
Passive sensor detects the naturally transmitted microwave energy within its field of view
Representation of types of sensing
APPLICATIONS OF RS  IN AGRICULTURE:
Identification, area estimation and monitoring
Crop nutrient detection
Soil mapping
Crop condition assessment
Agricultural drought assessment
Crop yield modeling and production forecasting
Identification of planting and harvesting dates
Identification of pest and disease infestation
Irrigation monitoring and management
PROS OF REMOTE SENSING:
Good spectral and spatial resolution.
Allows broad regional coverage.
Allows continuous acquisition of data.
Provides cost effective and map accurate data.
Provides large archive of historical data.
LIMITATIONS OF REMOTE SENSING:
Cost of data collection and data purchase is high.
Problems with data analysis and interpretation.
Problems with all weather capability as all sensors cannot see through clouds.
Potential limitations with spatial, spectral and temporal resolutions of the various sensors.
CONCLUSION:
Remote sensing technology has developed from balloon photography to aerial photography to multi-spectral satellite imaging.
Some of the benefits that can be gained from the use of remote sensing-
Early identification to crop health and stress
Ability to use this information to do remedial work on the problem
Improve crop yield
Crop yield predictions
Reduce costs
Reduce environmental impact
Crop management to maximize returns through the season
PRESENTED BY:
Nihrika Khanna
B.Sc(Hons.) Agriculture
Rayat Bahra University, Mohali
99dr.niharika@gmail.com