Book Detail: Engineering Drawing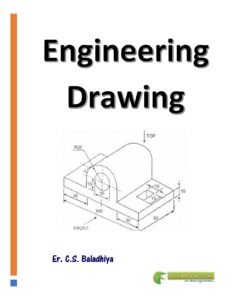 Language: English
Pages: 173
Author: Er. C.S. Baladhiya
Price: Free
Course Outlines: Engineering Drawing (0+2)
Module1. Lines, lettering and scales
Lesson 1. Manual drafting tools for Engineering Drawing
Lesson 2. Types of scales.
Lesson 3. Line and lettering
Module 2. Projections
Lesson 4. Dimensioning technique
Lesson 5. Orthographic projections
Module 3. Sectional views
Lesson 6. Sectional view
Lesson 7. Types of projections
Module 4. Temporary faster
Lesson 8. Fastening
Lesson 9. Drawing of bolt and nut
Lesson 10. Drawing of stud
Module 5. Keys, cotter and pin joints
Lesson 11. Types of Key, cotter joints and pin joints
Module 6. Shaft couplings
Lesson 12. Rigid coupling, Loose coupling, Flexible coupling, Universal coupling
Module 7. Bearings
Lesson 13. Shaft bearing: Journal bearings, Pivot bearings, Collar bearings
Feedback: After Reading these ICAR eCourse, please give your feedback for improve of the e-Course contents on this website. Click Here
Disclaimer: The information on this website does not warrant or assume any legal liability or responsibility for the accuracy, completeness or usefulness of the courseware contents.
The contents are provided free for noncommercial purpose such as teaching, training, research, extension and self learning.
If you are facing any Problem than fill form Contact Us
If you want share any article related Agriculture with us than send at info@agrimoon.com with your contact detail.